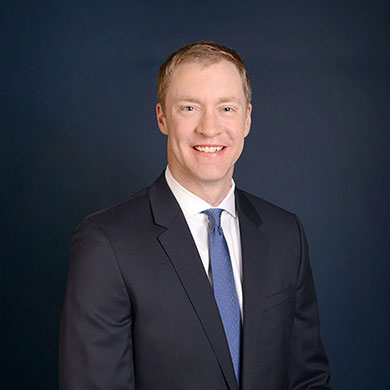 Aaron R. Fahrenkrog
Partner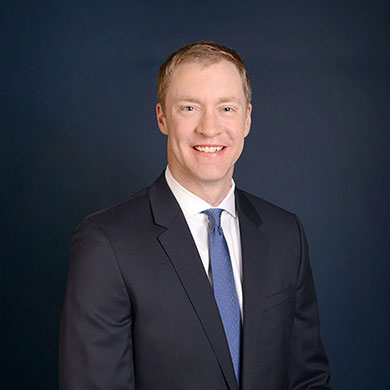 Experience
Aaron Fahrenkrog is a trial lawyer. He handles complex cases in a wide range of areas including patents, strategic IP monetization, class actions, technology licensing, and publicity rights. Aaron enjoys patent cases because they present a fascinating interaction among technology, economics, business, and persuasion.
Aaron studied chemical engineering and has a proficiency in learning intricate technology in a range of areas including circuit architecture, 3D graphics rendering, and semiconductor fabrication. He has participated in preparing damage models exceeding a billion dollars and has recovered hundreds of millions of dollars in patent litigation at a ten-to-one return on investment. He also represents patent infringement defendants and applies the same principles to eliminate or minimize damage claims.
In any complex litigation, Aaron employs a methodology of establishing a case paradigm designed to build momentum, create leverage, and add value to maximize his clients' return on investment while minimizing uncertainty and surprises. He enjoys the challenge of breaking complexity into its parts and rebuilding an efficient and persuasive case for settlement, summary judgment, and trial.
Aaron represents both plaintiffs and defendants in all aspects of patent litigation and trial. He has argued claim construction and dispositive motions and has participated as trial counsel. He communicates complex information persuasively through unique approaches to visual presentations. In every situation Aaron works to achieve his clients' goals as efficiently as possible.
Advanced Micro Devices v. LG Electronics: Represented AMD in patent infringement litigation against LGE in the Northern District of California. AMD asserted infringement of nine patents covering a wide array of computer-based technologies critical to today's high-end consumer electronics products, including patents claiming pioneering inventions in USB, GPU, thermal management, and graphics-related technologies. The case involved over 800 accused products, ranging from televisions to smartphones, BD players, projectors, and smart appliances. The matter was successfully resolved after Markman and prior to summary judgment.
Lead counsel for Advanced Micro Devices, Inc. (AMD) in defensive patent litigation against Power Management Solutions in the District of Delaware. The asserted patent involved technology for gating power applied to integrated circuits, including microprocessors and graphics processors. Following claim construction, the plaintiff agreed to a final judgment of non-infringement, and the plaintiff appealed the claim construction to the Federal Circuit. The Federal Circuit affirmed the judgment of non-infringement, without opinion, within a week of the appellate oral argument.
Represented Advanced Micro Devices, Inc. (AMD) against Samsung Electronics Co., Ltd., (Samsung) in a patent infringement litigation in the Northern District of California. The case involved allegations that Samsung's memory products, ARM processor products, and consumer device user interfaces infringed seven AMD patents covering technologies in memory architecture, processor microarchitecture, transistor fabrication and design, and video user interfaces; and that AMD's x86 processors and graphics processing units (GPUs) infringed six Samsung patents covering technologies in processor micro-architecture design, and semiconductor fabrication and process control. After nearly three years of litigation and two rounds of mediation the parties resolved the matter shortly before trial, at the close of expert discovery and dispositive motion briefing.
Represented Advanced Micro Devices (AMD) in patent litigation against Silicon Graphics, Inc. (SGI) in the Western District of Wisconsin. The case involved three patents in the areas of graphics processing. The District Court granted summary judgment of non-infringement on all three patents. The summary judgment was also based on a license SGI granted to Microsoft. The case was appealed to the Federal Circuit. AMD sustained two-thirds of the non-infringement issues appealed. The case was remanded to the District Court for resolution of remaining issues as to 5 claims on one patent. The case resolved shortly before trial after 37 motions-in-limine were filed by AMD.
Represented medical device manufacturer ev3, Inc. in patent litigation against Boston Scientific Corporation and Boston Scientific Scimed, Inc. involving multiple families of patents related to embolic protection technology. The patent claims and counterclaims settled before trial on a confidential basis.
Representation of the Friends of the Boundary Waters Wilderness, pro bono, in its efforts to enforce the Minnesota Environmental Rights Act and prevent the construction of a 450-foot cellular phone tower near the Boundary Waters Canoe Area Wilderness.
Named to the "40 & Under Hot List," Benchmark Litigation (2018-2019)
Named Euromoney's Americas Rising Star Winner for Case of the Year (2019)
Named a "Minnesota Rising Star," Super Lawyers (2016-2021)
Named an "Up & Coming Attorney," Minnesota Lawyer (2014)
Bar Admissions
Minnesota
U.S. Court of Appeals, Federal Circuit
U.S. District Court, Minnesota
Education
University of Iowa College of Law, J.D., with distinction (2006) Iowa State University, B.S., Chemical Engineering (2003)
Quoted in:
"The Next Generation of IP and Technology Trial Lawyers," Attorney at Law (October 5, 2020)
"Breaking the Ice: Simple Question Informs Patent Attorney's Approach," Minnesota Lawyer (February 12, 2020)
"Big Patent Paydays Remain Tough With $140M Fed. Circ. Ax," Law360 (July 13, 2018)
"WesternGeco, the Extraterritorial Breakthrough Taking Damages Overseas," IPPro Patents (July 11, 2018)
"In Wake of Supreme Court Patent Ruling, Fed Circuit Decision Throws More Light on Damages Calculations," Intellectual Asset Management (July 6, 2018)
"Supreme Court Global Damages Ruling Comes as a Boost to Licensors, but its Application will be Key," Intellectual Asset Management (June 25, 2018)
"Industry Reaction to WesternGeco LLC v. ION GeoPhysical," IPWatchdog (June 22, 2018)
"High Court Ruling To Spur Push For Broader Patent Damages," Law360 (June 22, 2018)
"Patents, the Extra-Territorial," IP Pro Patents (May 2, 2018)
"Oil firms' Supreme Court spat could change patent law, attorneys say," Westlaw Journal Intellectual Property (April 25, 2018)
"Supreme Court Predicted to Rule in Favour of Patent Owners over Damages Abroad in Case That Could Have Major Ramifications," Intellectual Asset Management (April 17, 2018)
"WesternGeco v Ion Geophysical: All You Need to Know," World Intellectual Property Review (April 16, 2018)
"SCOTUS' WesternGeco Could 'Trigger Sea Change' in US Patent Law," Intellectual Property Magazine (April 16, 2018)
Injunctive Relief in Patent Cases
Panelist, IPWatchdog Patent Masters™ Litigation 2021, Webinar (June 10, 2021)
Putting Down the Shield and Picking Up the Sword: Generating Value from Patents in an Economic Downturn
Minnesota CLE 2020 Midwest IP Institute, Webinar (October 2, 2020)
The Law of the Smart Phone: Smart Phone Litigation and Policy Roundup
Minnesota CLE, Webinar (August 12, 2020)
Putting Down the Shield and Picking Up the Sword: Generating Value from Patents in an Economic Downturn
Minnesota IP Law Association, Webinar (August 4, 2020)
Standard-Essential Patents: Navigating FRAND and Creating Value from SEP Portfolios
Webinar, Robins Kaplan LLP, Minneapolis, Minnesota (February 13, 2020)
Patent Strategies Through a Trial Lawyers Lens
Webinar, In-house presentation before 50 attorneys in patent litigation, licensing, and patent prosecution (August 15, 2019)
WesternGeco International Patent Damages and Beyond
2018 Midwest IP Institute, Minneapolis, Minnesota (September 28, 2018)
Success in Patent Disputes
University of Minnesota School of Law Student Intellectual Property Law Association, Minneapolis, Minnesota (April 11, 2018)
EU Commission Update
Minnesota CLE, Webinar (March 1, 2018)
Patent Infringement Litigation
Patent Resources Group, Orlando, Florida (April 16, 2015)
American Intellectual Property Law Association
AIPLA (January 28, 2015)
Negotiating High-Stakes Patent Cases: How to Move a Billion Dollars Across the Table at a 10-to-1 Return Before Trial
2014 Midwest IP Institute, Minnesota (September 19, 2014)
Patent Infringement Litigation
Patent Resources Group, Bonita Springs, Florida (April 5, 2014)
Patent Infringement Litigation
Patent Resources Group, Orlando, Florida (April 11, 2013)
How to Prove Damages in Patent Trademark and Copyright Cases
The Knowledge Congress, Webcast (April 3, 2013)
Endgame: How to Prepare and Move a Billion Dollars in Patent Litigation
Xerox PARC Forum, Palo Alto, California (March 7, 2013)
All In: Advocacy at the Highest Level
Commercial Law League of America, New York, New York (November 9, 2012)
All In: Winning Strategies from the World of Patent Negotiation & Litigation
Missouri Bar, St. Louis, Missouri (November 8, 2012)
How to Move a Billion Dollars from One Side of the Table to the Other at a 10:1 Return Without Trial or Appeal
Robins, Kaplan, Miller & Ciresi L.L.P., Palo Alto, California (April 18, 2012)
How to Move a Billion Dollars from One Side of the Table to the Other at a 10:1 Return Without Trial or Appeal
Robins, Kaplan, Miller & Ciresi L.L.P., San Francisco, California (April 17, 2012)
Demonstration of Effective Presentation of Patent Damages Claims
Maryland Federal Bar Association, Baltimore, Maryland (February 22, 2012)
RESOURCES
Links to full publications and news releases.
Any information that you send us in an e-mail message should not be confidential or otherwise privileged information. Sending us an e-mail message will not make you a client of Robins Kaplan LLP. We do not accept representation until we have had an opportunity to evaluate your matter, including but not limited to an ethical evaluation of whether we are in a conflict position to represent you. Accordingly, the information you provide to us in an e-mail should not be information for which you would have an expectation of confidentiality.

If you are interested in having us represent you, you should call us so we can determine whether the matter is one for which we are willing or able to accept professional responsibility. We will not make this determination by e-mail communication. The telephone numbers and addresses for our offices are listed on this page. We reserve the right to decline any representation. We may be required to decline representation if it would create a conflict of interest with our other clients.

By accepting these terms, you are confirming that you have read and understood this important notice.