Takeda Pharms. U.S.A., Inc. v. West-ward Pharm. Corp.
A product label that does not encourage direct infringement cannot be the basis for an induced infringement claim.
July 21, 2016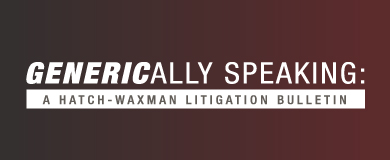 Case Name: Takeda Pharms. U.S.A., Inc. v. West-ward Pharm. Corp., Civ. No. 14-1268-SLR, 2016 U.S. Dist. LEXIS 65317 (D. Del. May 18, 2016) (Robinson, J.)
Drug Product and Patent(s)-in-Suit: Colcrys® (colchicine); U.S. Patents. Nos. 7,964,648 ("the '648 patent"), 7,981,938 ("the '938 patent"), 9,097,655 ("the '655 patent"), 8,440,722 ("the '722 patent"), 7,964,647 ("the '647 patent")
Nature of the Case and Issue(s) Presented: Defendants moved to dismiss Takeda's amended complaint for induced infringement on the basis that their 505(b)(2) product label specifically describes using its product for non-claimed indications. In particular, Takeda's Colcrys drug was approved and used to treat and prevent acute gout flares, while Defendants' product was approved solely to prevent gout flares. Moreover, Defendants had specified in their product label that their product was for the prevention of gout flares and warned that its drug was not indicated for the treatment of acute gout flares.
Takeda asserted that the product labels did induce infringement because the labels informed the patient to consult a physician if she were to experience a gout flare while taking Defendants' product, which would lead to the physician's prescribing the product based on the Colcrys® product label. Takeda also identified FDA correspondence showing that the use of Defendants' product for treatment may be likely, given the use of it for prevention. Lastly, Takeda relied on alleged statements from sales representatives regarding the use of Defendants' product for treatment and the existence of contracts with insurance companies to be the only provider of Defendants' product for the treatment of gout flares. The court granted Defendants' motion to dismiss.
Why Defendants Prevailed: The district court dismissed the complaint because Takeda had not offered facts, when viewed favorably to Takeda, that demonstrated a plausible claim of induced infringement. The court rejected Takeda's arguments regarding the product label because the label did not encourage, suggest, or instruct the doctor to perform the claimed method of treating gout flares with the product. Rather, the label instructed patients to seek medical advice if a flare were to occur. Simply because a doctor may prescribe Defendants' product for treatment did not rise to the level of encouragement for the basis of finding induced infringement.
As for the sales representative statements, the court noted that Takeda failed to identify a single actual instance of such statements, despite the fact that Defendants had been on the market for ten months. Likewise, the insurance contracts did not demonstrate encouragement or instruction to infringe the patents. Though Defendants' product could be prescribed to treat gout flares under the insurance contract, this speculation was not sufficient to sustain the claim.
GENERICally Speaking Summer 2016
Any information that you send us in an e-mail message should not be confidential or otherwise privileged information. Sending us an e-mail message will not make you a client of Robins Kaplan LLP. We do not accept representation until we have had an opportunity to evaluate your matter, including but not limited to an ethical evaluation of whether we are in a conflict position to represent you. Accordingly, the information you provide to us in an e-mail should not be information for which you would have an expectation of confidentiality.

If you are interested in having us represent you, you should call us so we can determine whether the matter is one for which we are willing or able to accept professional responsibility. We will not make this determination by e-mail communication. The telephone numbers and addresses for our offices are listed on this page. We reserve the right to decline any representation. We may be required to decline representation if it would create a conflict of interest with our other clients.

By accepting these terms, you are confirming that you have read and understood this important notice.